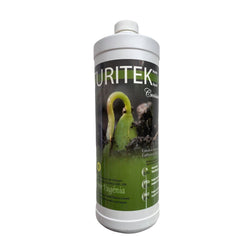 Turitek Growth - Natural Liquid Fertilizer
Turitek Growth is made from 100% liquid extract of earthworm castings. Optimizes the growth and multiplication of beneficial microorganisms in the soil. Ideal for starting seeds indoors and outdoors, for transplanting seedlings and for optimizing their growth. Once plants reach adult size, switch to Turitek Flowering and Maturation to improve yields. This high-performing liquid fertilizer is a well-kept secret of many organic market gardeners.
1L
Product of Quebec, made in Le Bic by Ferme Eugénia
Eugénia

How to use
Cuttings 15-20ml / liter of water
Growth 5-10ml / liter of water
Repeat every three weeks
Agricultural use
In furrows 500 ml /500 liters water per acre
Full field 2.5 liters / 500 liters water per acre
Maintenance rate 1 liter / 500 liters water per acre
In greenhouse 5 liters / 500 liters water
Houseplants or growing in pots/containers
20ml / liter of water - Twice a month
Transplantation
15-25ml / liter of water
Shake well before use. Avoid exposure to heat and freezing. Keep cool and away from direct sunlight.
Turitek growth contains elements elaborated in earthworm intestine, such as: bacterial mucus synthesi, polysaccharide gums, pre-humic compounds, calcareous secretions which favour the flocculation of argilo-humic compounds, a large quantity and diversity of microorganisms, growth hormones, B vitamins and proteins that have a positive impact on the growth of fruits, vegetables and plants.
CERTIFICATE OF ANALYSIS
Report issue date: July 16, 2014

| | | |
| --- | --- | --- |
| Sample | Description | Total bacteria CFU/ml |
| 1 | Liquid | 1.5 million |
Merci pour ma commande très heureuse
KMMM
Ou peut trouver le turitek au BÉNIN en Afrique de l ouest
Ca marche!
Vite commandé, vite reçu et ça fonctionne bien en plus!
Je suis ravie :)
Super
J'attendais de voir si votre produit faisait une différence. Mes plants intérieurs sont très beaux et très verts.
Turitek Croissance - Engrais naturel liquide
We think you'll also love...