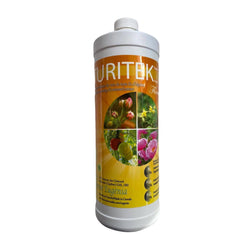 Turitek Flowering & Maturation - Natural Liquid Fertilizer
One thing that distinguishes flowering & Maturation TURITEK is the combination of algae and liquid extracts from earthworm manure. This results in an extensive multiplication of micro-organisms, combined with the specific properties of algae and earthworm manure. Turitek Flowering & Maturation should be used when plants are well established. For seedlings, use Turitek Growth. Combined with the specific properties of seaweed and earthworm castings, this high-performing liquid fertilizer is a well-kept secret of many organic market gardeners.

1L
Product of Quebec, made in Le Bic by Ferme Eugénia
General properties
Increases pollination and fruit set potentials
Increases resistance to frost, cold and drought in vegetable plants
Improves the preservation and colouring of fruits.
Increases the amount and types of microorganisms in the soil.
Improves the microstructure and macrostructure of soil particles, as well as the stability of aggregates.
Has a positive effect on plant growth by providing vitamins (group B vitamins), proteins and growth factors.
How to use
Flowering and maturation 5-10ml / liter of water
Every three weeks, alternate soil watering and foliar watering, until fruits appear.
Then, every three weeks, continue watering on the ground only.
Agricultural use
In furrows 500 ml /500 liters water per acre
Full field 2.5 liters / 500 liters water per acre
Maintenance rate 1 liter / 500 liters water per acre
In greenhouse 5 liters / 500 liters water
Shake well before use. Avoid exposure to heat and freezing. Keep cool and away from direct sunlight.
Turitek flowering and maturation contains elements elaborated in earthworm intestine, such as: bacterial mucus synthesi, polysaccharide gums, pre-humic compounds, calcareous secretions which favour the flocculation of argilo-humic compounds, a large quantity and diversity of microorganisms, growth hormones, amino acids, natural antibiotics, enzymes as well as vitamins A, BI, B2, B3, C, DI, D2, E, F, K, PP and proteins that have a positive impact on the flowering and ripening of fruits, vegetables and plants.
CERTIFICATE OF ANALYSIS
Report issue date: September 10, 2014
Analysis of vermicompost liquid

| | | |
| --- | --- | --- |
| Sample | Description | Total bacteria CFU/ml |
| 1 | Liquid | 10,500,000 |
J'utilise ce produit depuis deux ans. Les résultats sont excellents. Merci
J'ai hâte
J'ai applqué ce produit sur mes plantes intérieures et pour le moment, elles sont magnifiques. J'ai bien hâte d'utiliser sur mes plants de culture. À suivre.
ça semble être efficace ,elles poussent très bien.
We think you'll also love...