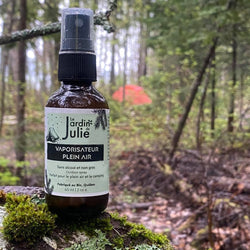 Coup de coeur
Plein Air Outdoor Spray – Natural Bug Repellant
Our outdoor spray is an effective, alcohol and DEET-free bug repellent and favourite outdoor ally for moms, gardeners and outdoor enthusiasts!
Non-greasy, it feels light on the skin and won't stain clothes.
Just like our bug repellant balm MOSKINEEM, this spray keeps the bugs away naturally, so you can enjoy the great outdoors.
Stock up on natural products for your outdoor adventures, don't forget to add MOSKINEEM balm, Adventurer Soap or our Lemongrass shampoo and conditioner bar to your cart!
NON-GREASY
SUITABLE FOR SENSITIVE SKIN
BIODEGRADABLE
SUITABLE FROM AGE 2+
ALCOHOL-FREE
DEET-FREE
NATURAL
Reusable/recyclable glass bottle.
Made in Le Bic, Quebec, Canada
60ml | 2oz
Instructions: Spray on clothing and skin as needed. Avoid face, eyes and mucous membranes.
Ingredients: witch hazel hydrosol, vegetable glycerin, polysorbate (dispersant), essential oils.
Consult the complete INCI ingredient list on our product packaging.
Vaporisateur pour le plein air
Très efficace!
Très efficace et en plus, il sent vraiment bon :)
C'est fantastique, je le recommande pour tous!
Je ne l'ai pas encore essayé.
Il n'y a pas encore de mouches qui nous piquent. 😉
J'adore , efficace , sent très bon et complètement naturel que demander de mieux :))
We think you'll also love...