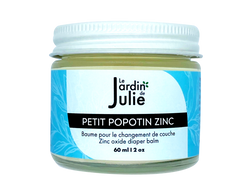 Petit Popotin Zinc - Natural Calendula Balm for Diaper Changes
Petit Popotin Zinc is a creamy, calendula balm for diaper changes.
The zinc adds a protective barrier to baby's sensitive skin and the vegetable butters and oils soothe and hydrate irritated skin. It will become your go-to diaper change balm.

Glass jar, metal lid.
Made in Le Bic, Quebec, Canada
60ml | 2 oz e.
How to use: Evenly apply a small amount of product to clean, dry skin.
Olive oil, sunflower oil. cocoa butter, shea butter*, castor oil, beeswax, calendula extract, chamomile extract, zinc oxide, lavender oil, vitamin e.
* Fairtrade
We think you'll also love...