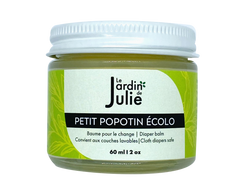 Petit Popotin Écolo - Natural Calendula Balm for Diaper Changes
Petit Popotin Écolo is a creamy, calendula balm for diaper changes that is compatible with cloth diapers.
Use this natural diaper cream balm daily, it can also be used by the whole family for moisturizing and helping to speed up the recovery of little bumps and cuts.

Glass jar, metal lid.
Made in Le Bic, Quebec, Canada
60ml | 2 oz e.
How to use: Evenly apply a small amount of product to clean, dry skin.
Olive oil, sunflower oil. cocoa butter, shea butter*, castor oil, beeswax, calendula extract, chamomile extract, lavender oil, vitamin e.
* Fairtrade
We think you'll also love...