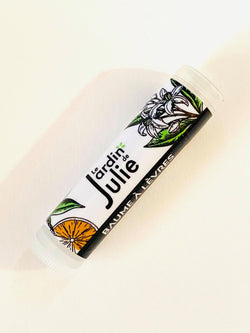 Orange Lip Balm – All-Natural
A moisturizing, orange lip balm that gently nourishes lips.
Meet your new best friend! You'll want this on hand for any weather Quebec throws at you: wind, rain, sun… you name it, this all-natural lip balm will protect you. What's more, it won't melt in your car or at the bottom of your handbag, even on the hottest summer days!
NATURAL ORGANIC FLAVOURING
NATURALLY MOISTURIZING
SUITABLE FOR CHILDREN
100% BIODEGRADABLE
To reduce our carbon footprint, we use beeswax to make this product.
Made in Le Bic, Quebec, Canada
4.25g | 0.15oz
Ingredients: beeswax, coconut oil, sunflower oil, certified organic natural flavouring, vitamin e, rosemary extract.
Find the list of ingredients in international cosmetic nomenclature on the label of each of our products.
Très hydratant
J'aime beaucoup ce baume à lèvre, l'orange est très discrète. Par contre il hydrate mes lèvres et tiens assez bien.
We think you'll also love...