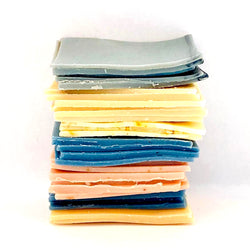 Soap scraps
Scraps are an economical formula for you and zero waste for us. You will find the same softness and the same moisturizing power as our regular size soaps.

You can add this soap bag to enjoy your soap scraps down to the last little pieces!
Each package contains an assortment of assorted soap scraps.
300g

Don't miss this
Me who does not waste, I am packed with these scraps of soap. They are lovely chunks (not crumbs) that I place in a net or soap bag and wash away with this creamy lather that surely smells of heaven. I could no longer do without it. Bravo for 0 waste.
Retail soaps
It's great to get it all back! Everything is perfect! Thank you Les Jardins de Julie :-)
We think you'll also love...