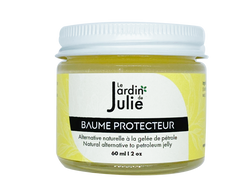 Cold Cheeks - Protective Balm - Multipurpose - Unscented
Our protective balm cold cheeks is a great natural alternative to petroleum jelly. The versatile balm moisturizes and protects skin. Ideal for protecting sensitive facial skin and lips from the cold. This balm might just become your new best friend for taking care of your kid's skin this winter!
Protective and moisturizing balm for skin and lips. Can also be used as a diaper balm.

Glass jar, metal lid.
Made in Le Bic, Quebec, Canada
60ml | 2 oz e.
Directions: Apply as needed to dry skin.
Sunflower oil, beeswax, tocopherol (Vit e).
We think you'll also love...