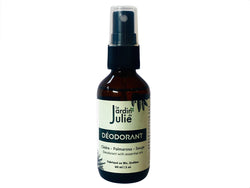 Nouveauté
Cedar, Palmarosa and Sage Deodorant - Effective, Non-Irritating, No White Marks
Our cedar, palmorosa and sage deodorant is effective, won't irritate the sensitive skin of your underarms or leave any white marks on your clothing.

VEGAN

NATURAL
SUITABLE FOR SENSITIVE SKIN
NO WHITE MARKS

NON-GREASY

DOESN'T BLOCK SWEAT GLANDS

UNISEX FRAGRANCE
We don't use sodium bicarbonate in our deodorants as many people find this irritates the skin. Our liquid deodorant goes on without making a mess. With palmarosa, clary sage and Canadian cedar essential oils, which are all known for their antiseptic properties and ability to regulate perspiration.
Reusable, recyclable and/or refillable glass container at some of our distributors.
Made in Le Bic, Quebec, Canada
60ml | 2oz
Shake well and spray under armpits.
Vegetable glycerin (moisturizes and softens the skin), alcohol (antiseptic), water, palmarosa, clary sage and Canadian cedar essential oils (antiseptics and regulators of perspiration).
Fait le travail
J'aime le format et l'application. Permet effectivement de ne pas avoir d'odeurs de transpiration durant la journée. Par contre, à l'application, je trouve que le produit sent "le chimique", ou quelque chose comme cela, je n'aime pas trop, c'est intense et désagréable... La prochaine fois, je vais commander celui à la lavande, peut-être que ce sera différent?
We think you'll also love...