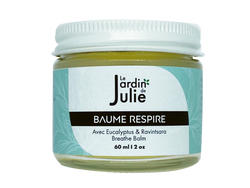 Breathe Balm - Your Winter Rescuer
Our breathe balm is made with eucalyptus and ravintsara oils, rub on to your chest, back and feet to relieve congestion.

Glass jar, metal lid.

Made in Le Bic, Quebec, Canada
60ml | 2 oz e.
Directions: Apply chest, back and feet as needed. Avoid face and eyes. Wash hands after application.
Sunflower oil*, local beeswax, eucalyptus radiata* and ravintsara* essential oils, vitamin e.
*Certified organic
Porte bien son nom
Les bienfaits de cette crème sont véridiques et en plus c'est naturel
Naturellement crémeux
Mon 2e a la toux facile et le baume respire est notre nouvel ami! Crémeux et naturel, notre garçon l'aide beaucoup et il reste longtemps sur la peau sans avoir une odeur forte :)
We think you'll also love...