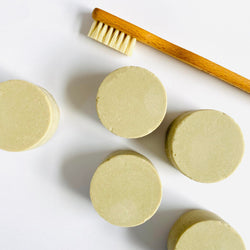 Spearmint Solid Toothpaste - Bulk Format
1 solid toothpaste to store in your own container.
Why not pair with a natural maple toothbrush for a zero-waste dental hygiene routine?
±28g | 1 oz
Parfait. Sans déchet et efficace
Un premier essai
J'aime beaucoup l'idée d'utiliser un dentifrice en vrac. Bon pour l'environnement et petit à transporter et pratique en voyage. C'était mon premier essai. Même si la qualité du produit est excellente, ce n'est pas un coup de coeur pour le goût du dentifrice. C'est peut-être juste une question d'habitude et je serais curieuse d'essayer les autres "saveurs".
Parfait !
Ce dentifrice est efficace, le goût est rafraichissant et il nettoie très bien les dents ! Prix tout à fait justifié par rapport à la quantité et à la durabilité
Excellent!
J'apprécie le fait qu'on n'a enfin aucun plastique à jeter et qu'on puisse commander des pastilles sans emballage. Je trouve le prix un peu cher par contre. Merci pour votre engagement environnement et sans déchet!
We think you'll also love...