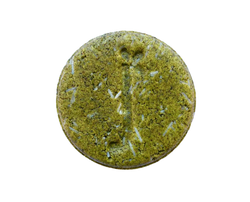 PURIFY SHAMPOO BAR – Nettle & Rosemary – For Oily Hair and Itchy Scalps - NO BOX
Nettle strengthens hair and cedar and rosemary essential oils regulate the production of sebum and soothe itchy scalps and dandruff.
All of our shampoos are sulfate free!
Combine with one of our conditioner bars for soft, hydrated hair.
Don't forget your soap bag to ensure you get the most out of every last bit of your shampoo bar.
GREAT LATHER
ULTRA SOFT
SUITABLE FOR NATURAL AND COLOURED HAIR
SCENTED WITH ESSENTIAL OILS
SULFATE FREE
COCOBETAINE FREE
Made in Le Bic, Quebec, Canada
60g | 2 oz (Up to 40 washes)
Instructions for use: Wet hair well and wet shampoo bar. Rub the shampoo bar over your head. Once you obtain a rich foam, lather and massage the scalp and hair. Rinse. Follow up with a conditioner bar.
Storage: Let the shampoo dry completely between each use. If you need to travel with it, dry it with the corner of a towel before closing your soap case, and leave the soap case open once you have arrived at your destination.
Note: If you are making the switch from conventional shampoo (high street or salon) to shampoo bars, the first time you wash your hair, you may notice a layer of synthetic silicone is removed from you hair. This may create a waxy-oily effect. If this happens to you, simply re-wash your hair, and enjoy your beautiful hair without any chemical residue!
Ingredients: Sodium cocoyl isethionate, water, castor oil, avocado oil, coconut oil, nettle leaf powder*, marshmallow root powder, rosemary oil, cedar oil, illite, tocopherol (vitamin e).
*Certified fairtrade
Find the list of ingredients in international nomenclature (INCI) on the packaging of all our products.
Shampoing qui mousse super bien et qui sent bon. En plus nous pouvons l'acheter sans boîte donc encore plus écolo!
Merci Jeff d'avoir pris le temps de nous laisser votre avis sur notre shampoing à l'ortie! Effectivement, il nous tient à cœur de pouvoir proposer les alternatives zéro déchet pour nos produits dès que c'est possible, on est heureuse de pouvoir proposer ce choix à notre belle clientèle. Merci encore d'avoir passé commande au Jardin de Julie :)
J ai pas encore essaye il est en attente !
L'essayer c'est l'adopter !
Je suis à 100 pour 100 satisfaite. Je le trouve très doux pour mes cheveux et je suis très contente des résultats. J'en n'ai offerte une barre à mon neveu qui a un problème de cheveux gras et ca le réglé son problème.
Adopté!
Un shampoing qui dure longtemps, qui mousse bien et qui rend les cheveux doux et léger. J'ai besoin de les laver moins souvent que lorsque je prenais n'importe quel shampoing supposément haute gamme. Tout doux aussi pour les cheveux des enfants. Je vous le conseil avec le p'tit sac filet à savon pour en profiter jusqu'à la fin, lorsqu'il est rendu tout petit et qu'il a tendance à casser. Je l'ai adopté depuis plusieurs années. Je n'ai pas l'intention de changer de shampoing.
J'adore!
Fini le shampoing liquide dans des bouteilles de plastique! J'adore ce produit solide, il suffit de frotter légèrement sur les cheveux mouillés et ça donne une belle mousse qui sent très bon. En plus, c'est parfait pour mes cheveux et ils restent beaux plus longtemps entre les lavages. Je suis maintenant un converti et j'en recommanderai d'autres!
Merci beaucoup Roger! On est super heureuses de savoir que notre shampoing vous plaise et vous convienne! Nous préparerons avec grand plaisir vos futures commandes, ça nous fait toujours chaud au cœur de voir que nos clients reviennent commander chez nous car ils apprécient nos produits :)
We think you'll also love...