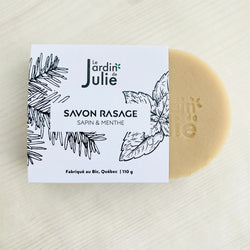 Coup de coeur
Fir & Mint Shaving Soap - Vegan
Refreshing shaving soap for facial hair. A must-have for your natural skin-care routine. We guarantee you'll fall for its sublime, refreshing and nourishing foam. The fir and mint-scented shaving soap also contains clay, which helps razor blades glide over the kin (and is gentle on any little knicks!)
This soap contains beer. In saponification, the beer adds a softness and smoothness to the soap, and once transformed into soap, it smells good! But rest assured, there's no chance of this giving you a hangover! Quite the contrary, your skin will be left feeling soft, refreshed and hydrated.
ULTRA SOFT
SUITABLE FOR SENSITIVE SKIN
NO SYNTHETIC COLOURANTS
NO NATURAL COLOURANTS (OXIDES & MICAS)
SCENTED WITH ESSENTIAL OILS
Why do we colour our soaps with plants and avoid colour oxides and micas? Put simply, because we don't believe in the way colour oxides and micas are produced (child labour and atrocious working conditions. Watch this video for more information.
Label made from FSC/Sustainable Forest Management certified recycled paper.
Made in Le Bic, Quebec, Canada

110g | 4 oz
Instructions for use: Wet the soap and create a lather (with your hands or a brush). Apply to the skin, shave as usual, rinse. Feel naturally good about yourself... Soft skin that doesn't feel tight!
Storage: Let your soap dry between uses to extend its life.
Ingredients: Olive oil, coconut oil, water, sodium hydroxide, rapeseed oil, sunflower oil, castor oil, shea butter*, cocoa butter, beer, clay, balsam fir essential oil, cedarwood essential oil, spearmint essential oil, eucalyptus essential oil
*Certified fairtrade
Find the list of ingredients in international cosmetic nomenclature on the label of each of our products.
Le plaisir du rasage
C'est déjà la 2e fois que j'achète ce savon de rasage et je suis toujours autant satisfait. Produit une belle mousse (j'utilise un blaireau mouillé que je frotte sur le bloc de savon) qui sent bon. La lame du rasoir glisse facilement sur la peau grâce à cette mousse, zéro collant, aucune coupure, et rinçage très facile du rasoir, car justement rien ne vient coller entre les multi-lames. Je crois avoir fait au moins 1 an avec le savon précédent, alors oui ça dure longtemps. Je recommande.
Merci Roger d'avoir pris le temps d'écrire ce bel avis sur notre savon rasage ♥
Mousse très bien!
Super savon moussant pour le rasage
Bonjour Marilaine,
On est très heureuses de savoir que notre mousse se soit rendue jusqu'à chez vous et que vous appréciez notre produit ! Merci beaucoup de nous avoir laissé votre avis, c'est toujours important pour nous de savoir que nos produits fabriqué à la main dans notre atelier apportent de la douceur chez nos clients :)
Savon pour la barbe
Juste wow! Je ne prendrez plus jamais de mousse à rasage.
We think you'll also love...