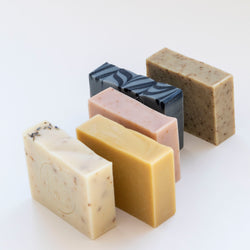 ALMOST PERFECT vegan soaps - Your choice
Our ''less beautiful'' which wash just as well as the beautiful ones.

Made in Bic, Quebec, Canada

125g | 4.4 oz e.
Directions: Wet soap and lather. Wash yourself. Rinse. Feel naturally good about yourself... Soft skin that doesn't feel tight!
All our soaps are cold saponified and contain non-saponified oils which help to preserve the skin's hydration.
Storage: Letting your soap dry between uses will prolong its life.
Tip: Cut it down the middle to make 2 small soaps for the travel kit or just to share.
See the sheet for each type of soap.

We think you'll also love...