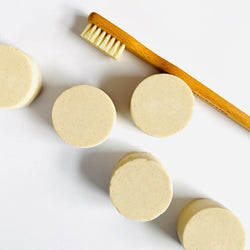 Wintergreen Solid Toothpaste - Bulk Format
1 solid toothpaste to store in your own container.
Why not pair with a natural maple toothbrush for a zero-waste dental hygiene routine?
±28g | 1 oz
Efficace
Bonjour,
J'aime beaucoup la saveur thé des bois de ce dentifrice, c'est rafraîchissant. Un seul bémol, la pastille achetée en vrac, était plus petite que le contenant régulier...
Au plaisir,
Marie
Bonjour Marie,
Merci beaucoup pour votre commentaire, nous sommes ravies que vous appréciez notre dentifrice solide!
En effet, la version vrac de nos dentifrices est plus petite, nous n'avons pas encore trouvé de moules identique aux boites...! Le prix est cependant ajusté dans ce sens, et vous pouvez tout à fait mettre le dentifrice vrac dans un de vos contenants personnels, ou alors directement dans la boite de nos dentifrices réguliers (Après plusieurs utilisations, le couvercle se ferme facilement)
Au plaisir de vous voir en boutique cet été, et merci encore d'utiliser les produits du Jardin de Julie!
En vrac - Dentifrice solide Thé des bois
Merveilleux
Rien à dire de plus que l'essayer c'est l'adopter … frais efficace et tellement une belle odeur :)))
Dentifrice solide thé des bois
J'adore le goût! Très frais! Et c'est très écolo: pas de sur-emballage. Le colis, en arrivant, sentait super bon grâce au dentifrice. La boîte postale aussi, haha!
We think you'll also love...