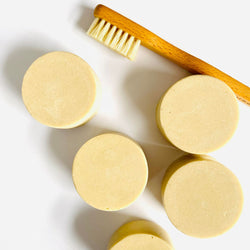 Nouveauté
Cinnamon Solid Toothpaste – Bulk Format
1 solid toothpaste to store in your own container.
Why not pair with a natural maple toothbrush for a zero-waste dental hygiene routine?
±28g | 1 oz
J'adore
Le produit sent vraiment beaucoup la cannelle. J'en avais marre des goûts toujours mentholés donc ça fait vraiment changement. Il nettoie bien les dents. Je le préfère en vrac maintenant car dans le format avec pot en métal, mon dernier a rouillé. Bref, c'est mon nouveau dentifrice préféré.
En vrac - Dentifrice solide Cannelle
We think you'll also love...