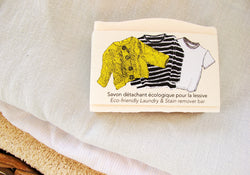 Natural Stain Remover Bar - Bulk - No Label
Our natural stain remover actually does remove stains! Economical and unscented, our bar removes stains from gardeners' and children's clothes without leaving any residue.
VEGAN
VERY ECONOMICAL
BIODEGRADABLE
NO PALM OIL
FRAGRANCE-FREE
This stain remover bar works! It removes stains from tomato sauce, grass, coffee, wine, fruit juice, yellow marks on clothing, oil stains, mineral sunscreen and even bicycle oil!
Attacks stubborn stains on cloth diapers and baby clothes with ease, and you can also use it for sanitary products, makeup remover pads, nursery pads and more.
It's a natural and very economical alternative to commercial stain removers, which, in addition to being expensive, are very bad for our health and the environment.
Made in Le Bic, Quebec, Canada
Wet the stain and rub with the stain remover bar. Then wash your garment as usual.
Ingredients: Saponified coconut oil, sodium bicarbonate.
LE meilleur détachant !!!
C'est le meilleur détachant à vie et je ne peux plus m'en passer ! Je n'achète rien d'autre et avec 2 enfants j'avais tout essayé ! En plus une barre dure vraiment longtemps ! J'ai acheté 2 barres il y a quelques années, je l'utilise à chaque semaine et je suis dûe pour un nouvel achat que maintenant ! Un "must" à avoir à la maison !
Meilleur détachant!
J'en ai essayé plusieurs et c'est vraiment le meilleur! Il dure longtemps et j'adore que la liste d'ingrédients soit courte et sans parfum. C'est rassurant. Parfait pour ma famille.
We think you'll also love...