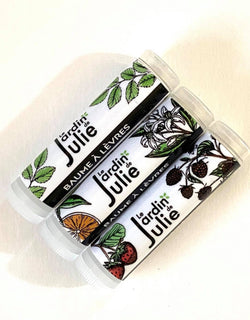 All-Natural Lip Balm - Set of 3
Buy 3 lip balms and save! Simply let us know which lip balms you would like in the note section at checkout, or let us surprise you!
Available flavours:
Berry, Lemon, Mango, Orange, Peppermint, Vanilla
Meet your new best friend! You'll want this on hand for any weather Quebec throws at you: wind, rain, sun… you name it, this all-natural lip balm will protect you. What's more, it won't melt in your car or at the bottom of your handbag, even on the hottest summer days!
NATURAL ORGANIC FLAVOURING
NATURALLY MOISTURIZING
SUITABLE FOR CHILDREN
100% BIODEGRADABLE
To reduce our carbon footprint, we use beeswax to make this product.
Made in Le Bic, Quebec, Canada
3 x 4.25g | 0.15oz
Ingredients: beeswax, coconut oil, sunflower oil, certified organic natural flavouring, vitamin e, rosemary extract.
Find the list of ingredients in international cosmetic nomenclature on the label of each of our products.
Les meilleurs
J'ai essayé plusieurs baume à lèvre et c'est vraiment les meilleurs que j'ai essayé et qui fonctionne pour moi . J'ai les lèvres sec de nature et un ''tic'' nerveux de gratter la peau de mes lèvres . En même pas un mois , j'ai de belle lèvres bien hydraté et que je n'ai plus tendance à vouloir les gratter . Vraiment un très belle découvert pour ma part ♥ .
baumes à lèvres mangue
Nos 3 enfants les adorent! tous doux pour les lèvres, hydratent bien et sans produits nocifs:)
Hourra! Pour les bons petits baumes à lèvres.
Ils sont jolis, sentent bon et très efficaces. 😃 Super bon service en plus.
Super produits
J'ai découvert le Jardin de Julie, lors d'un séjour à Québec. Le baume à la menthe était tellement agréable, que je voulais me procurer les autres saveurs. Magnifiques !!
We think you'll also love...