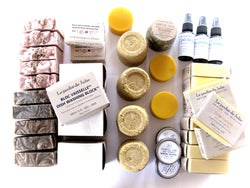 Contactez-nous!
Soap & Co Bulk Family Purchase
Jardin de Julie products have been adopted by whole families, that's why we decided to give you a more economical way to shop!
You can order your soap products in bulk to last you months or even the whole year.
What's more, save 15% when you order at least $350 worth of products.
Email us to order!
*Minimum delay of 6 weeks between receipt of order and delivery.
We think you'll also love...